This one is for the M.I.L.F's Mothers In Love (with) Fashion. We know you ladies are as powerful as they come and with that, of course, your fashion will have to adapt. And as you give birth to the new fashion generation, of course you want to do it in impeccable form. Here are some diaper bags to help you with just that!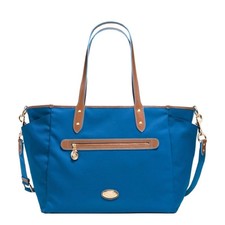 Coach Blue Diaper Bag
First thought? This doesn't look like a diaper bag. And that is why it's on the list!
This Blue Coach Diaper bag is the perfect blend of fashion and function. Even if you don't use this as a diaper bag, it can still pass off as a regular tote. With its simple gold hardware, blue and brown color combination, it's the perfect disguise and surprise for the hot mama's out there.
Petunia Pickle Bottom Diaper Bag
Sweet and dainty, it's another diaper bag that is not the usual!
When you are not using it to care for your beautiful babies, use it as a tote bag! The cotton material of the bag is just perfect for those Spring and Summer outfits as well as getaways. And with the red and white bicolor treatment, you know that it's going to be a looker.
A diaper bag and a statement piece all in one? You got it with this Petunia Pickle Bottom Diaper Bag!
Olivia + Joy Diaper Bag
Looking for something plain yet functional? Olivia + Joy got you covered.
Although it is intended for the needs of your stylish babe, we love how this silhouette of it all is not the usual east-west. The multipockets and closure will help you organize your essentials and some.
Made up of nylon, you can definitely be confident that it's going to be a bit dirt and water resistant. So rain or shine, diaper bag or not, this bag is going to be one of your best fashion partners.